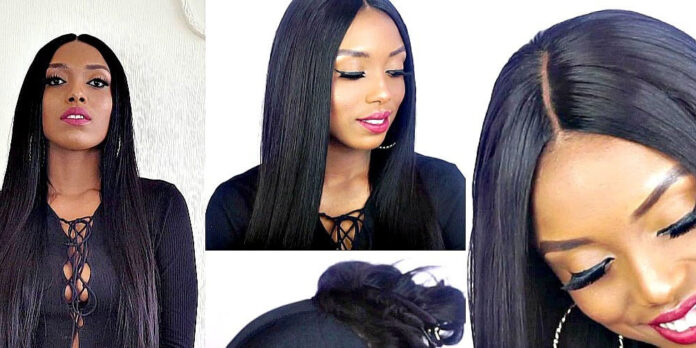 The use of lace wigs has become quite popular especially amongst ladies who fancy the 4 × 4 lace wigs. Every year, the hair extension industry continues to grow with the demand for hair closure becoming hotter each year.
The main reason for this growth is that every lady seeks to embrace the naturalness and perfection of lace closures. It doesn't matter if you have permed or natural hair, a hair closure helps to provide a perfect blend.
Reason For Using a Hair Closure
Below are some of the reasons why you would need a lace closure for your next weave.
1. They provide a natural install
If you want to achieve a perfect hair install then you definitely need a lace closure. If the lace is thin enough like a Swiss lace, you will leave people wondering if the strands are growing from your scalp.
With Swiss lace closure, you need not worry about blending because there will be no need for that.
2. It protects your hair
Using a lace closure helps protect your hair from extreme heat and the side effects of hair products. Get yourself a lace closure if you wish to enjoy the additional volume and length of a hair extension.
Additionally, lace closure preserves your leave outs from extreme heat and ensures your hair is not placed under stress. More interestingly, the use of lace closure eliminates the need for leave out and therefore is highly suitable for ladies with broken leave outs.
3. It is versatile
With lace closure, you can achieve different types of parting. So whatever mood or style you wish to rock, a lace closure will help you achieve that. Lace closure comes in various partings.
It could be a free parting, three parting, or middle parting. Middle parting offers you a classic look and with a free or three parting closure, you are free to explore various options even after installation.
Lace closure also comes in various textures. Therefore blending your hair with an extension wouldn't be such a difficult task. Out of so many options, you can easily choose the texture that suits your permed or natural hair
4. It is affordable
At a time, only high-class celebrities could afford lace frontals and hair closure because they were quite expensive and not readily available. Nowadays, with the increase in demand for hair extensions and their accessories, the story has changed considerably.
Many companies in the industry now manufacture high-quality closure at an affordable price. Not only are they affordable, but they are also available for every woman whether or not you are a celebrity.
Conclusion
These and many more are the reasons why the use of hair extensions and hair closure continue to grow popular among everyday women. If you are yet to try out closures, be sure you won't be disappointed when you eventually do.
It helps you achieve a gorgeous and comfortable look. Above all, it is easy to use and time-saving. If you have a busy lifestyle and you need to protect your hair and remain in trend, get yourself a human hair bundle with lace closure.