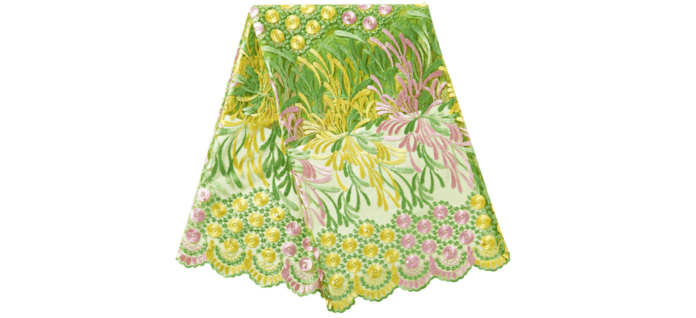 Lace fabrics have been in use for centuries either as simple dresses or as vintage blouses. The trendy nature of these fabrics gives an appealing outlook anytime you wear it. The appeal of the lace fabric materials has led to the mass use of the materials in creating modern styles. Lace fabrics can also serve the purpose when you're looking to create a vintage look.
Lace fabrics are of many types, and each type has its distinguishing features. Embroidery lace generally refers to lace fabrics that are designed with needle and thread on a woven background piece. There are four known types of embroidered lace; they are highlighted below;
Open-work seams
This type of embroidered lace material is common amongst the English people. It is designed by using decorative stitches to join various pieces of clothing materials. The stitches used in joining these materials are made up of multiple colours; this is where the fabric gets its appealing design.
Picots
This particular lace embroidery pattern is achieved via the use of stylish pearls. The pearls are used in lining the neckline of the lace fabric to good effect; other parts like sleeve cuffs are also decorated using the coloured beads.
Cutwork laces
The patterning of this particular embroidered lace pattern involves the cutting of holes on a ground material. The material to be used is observed to have adequate thickness to handle multiple cut out patterns; the patterns are then cut out on the material. Usually, the edges of the cut holes are neatened via the use of buttonhole stitches. Another way of creating an exciting design is via the stitching patterns between the holes in such a way that it blends.
Net laces
When embroidered patterns are created on a woven net using double warp threads, it's referred to as net lace embroidery. At other times, it is produced using a square mesh in combination with a gauze-like weave cloth. The square mesh can then be transformed into a variety of patterns via the use of a running stitch. Net laces are commonly used in Europe and Africa where they are developed into a variety of styles.
Pulled and drawn thread laces
The ground material plays a pivotal role to achieve this type of embroidered lace pattern. Holes are created by pulling threads out of the base material. When these threads are removed out of the ground material, they are replaced with totally different threads from a different. The design is gradually formed from the areas where the threads are pulled and replaced. The embroidery does not involve cutting the base material in any way as only a few areas require thread replacement.
Final Thought
Lace materials have been a mainstay in the fashion industry for many years. These lace materials are even more desirable when they are embroidered with the use of various colourful threads. Embroidery laces can be made into vintage and modern wears fashionably. This article highlights some of the embroidery laces that you can get for yourself.