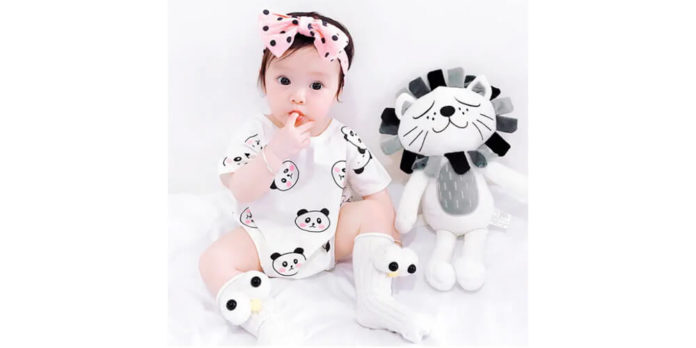 So, a friend, a family member, a colleague, or someone else close to you has had a baby, and you want to buy something for the little one. Now you wonder what to buy? It should be something that will reflect both your respect and affections.
To make things easier for you, we have made a list of excellent gifts for newborn babies. You can't go wrong with any of them.
Panda Onesies 
It's no secret that pandas are super cute. So why not go with panda onesies for the little one. The black and white combination looks excellent with both baby boys and girls. This is pure classic that not only looks good on the little one but is also very practical. Any pragmatic parents will appreciate it very much.
Musical Toys and Rattlers
There is no shortage of musical toys and rattlers for newborns on the market. They are available in all designs and colors. Simultaneously, they can be very soothing and peppy, which guarantees the baby will be entertained.
Baby Diapers & Baby Bath Products
By far, this is the most pragmatic approach that almost all parents will appreciate a lot as that stuff can be quite costly. There is nothing glamorous about baby diapers and baby bath products, but you can't appreciate them enough until you have your own or watch others raise a newborn. Just make sure that you buy from reputable brands and buy age-appropriate products. This is evenly important for both the baby diapers and the baby bath products. 
Baby Jewelry
Gifting silver jewelry to a newborn is nothing new and considered auspicious. Silver is known for its silver benefits, and it is often used for making baby jewelry. To that end, you can buy silver anklets, bangles, silver bowls, silver spoons, or silver glasses. 
Baby Room Decor
If you want your gift to stand out and be unique, gifting the little one baby room decor might be the right approach. The good news is that you can choose from a wide selection of decorations such as wall stickers, drapes, picture frames, baby room lights, etc.
Play Gym or Cot Mobile
Every parent can appreciate the few moments they get free while the little one is engaged with the play gym or the cot mobile. Can't go wrong with either of them or maybe with both items. The musical kinds are the most entertaining ones that tend to engage the little ones the longest.
Gift Cheque
If you don't have enough time to go shopping or can't make your mind, a gift cheque is a sure bet. It gives parents the freedom to buy whatever they need for the little one. Gift cheque is being as pragmatic as possible. So unless the parents are millionaires, the gift cheque will be highly appreciated. 
In Conclusion
It all comes down to the preferences of the parents, their needs, and their perception of things. Some favor practical gifts, others something they can post on Instagram, and some don't care much about the gifts as you witness their little miracle. Therefore, when you start making any plans, think of them more and the type of people they are than anything else. That's how you nail the perfect baby gift.