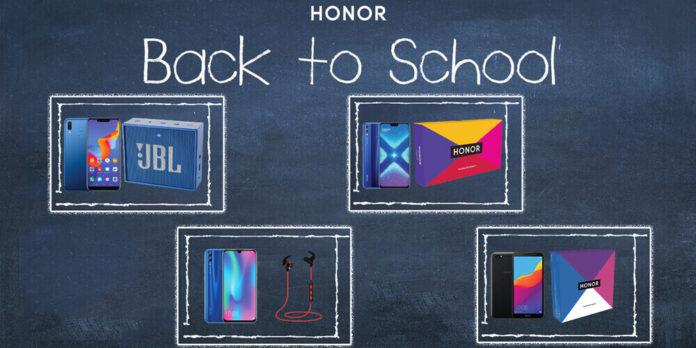 I know you guys are excited to go back to school, learn new fun things, interact with your teachers and schoolmates, and, most of all, use the latest school gadgets that Honor has to offer! Honor has covered the back to school program. This year has lots of fun surprises and exclusive prizes that await you. Are you excited to learn all about Honor back to school sale?
Honor's latest offer lets its avid patrons claim FREE VOUCHERS! There are at least three different vouchers that you can claim right here. You can claim a £10 gift voucher, £30 gift voucher, and a £50 gift voucher. One of those can be yours when you register for free with a Huawei ID Account.
How to claim free vouchers from Honor back to school?
It's very simple to join and claim these awesome free vouchers. Just click the voucher that you're trying to claim, for example: click the £30 gift voucher, you will be prompted with two options to Register or Log-in. If you don't have a Huawei ID account yet, you will need to register for an account, but if you already have an account, just simply log-in to your Huawei ID account and claim the free voucher.
Hurry and claim your free vouchers before it's too late. This limited offer is valid until September 15, 2020. Well, good things don't last that long. Hurry up and claim yours. This is perfect to use for purchasing one of HiHonor's latest gadgets that you can use in school and help you with your studies and other activities.
When you order any HiHonor product, they offer free delivery for orders above £39.99; no shipping fee is required! You get your order fast plus save from the extra shipping fee. Payments have also been made easy since Honor partnered with accredited stores where you can make your payments wherever and whenever.
On top of that, Honor also offers a free return for purchases made within 31 days. They can replace products just in case you are experiencing any problems from it. Just call or email their customer service department and request a return processing. Rest assured, Honor will take care of your needs and keep you satisfied with your techy desires.
Don't forget to subscribe to Honor's weekly newsletter to learn more updates and exclusive offers. When you subscribe, you have the chance to win awesome weekly prizes! Honor will choose a lucky weekly winner to receive a free voucher that they can use on selected Honor's product of the week. You will save more when purchasing Honor's awesome smartphones, watches, tablets, or even new laptops that you can use in school.
So what are you waiting for? This offer is only valid until August 31, 2020. Grab your chance now and subscribe to Honor's weekly newsletter before they run out of these awesome voucher deals. Just remember to follow the mechanics and register for a Huawei ID account to become eligible to join.
Going back to school has never been this fun and exciting. Who knows, you can be the next lucky winner.